Heritage Greenhouses...
Let our decades of experience and expert knowledge enhance your gardens...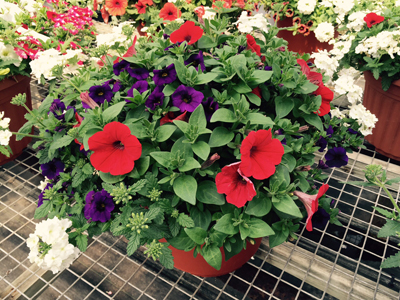 Welcome to our Greenhouses!!
Welcome to Yerico Farms Heritage Greenhouses!
We are proud to announce our grand opening, and the purchase of the former, Loyal Oaks Greenhouses, for this Spring of 2016.
We are going back to our roots!! We are prepared to show you what our decades of experience can do for your gardens.
Heritage Greenhouses hosts a wide variety of annuals, perennials, specialty planters, dish gardens, deck pots, hanging baskets, vegetables plants, and herb gardens.
Annuals
We have a wide variety of annuals ready for all your gardening needs. Sun or shade, we have gorgeous flowers to surround your homes all summer long. Memorial Day and Mother's Day are right around the corner, and we've got you covered. Come check us out, and we are sure to amaze you with our knowledge and wide assortment to choose from. You won't be disappointed!!!!
Perennials
Don't have the time for annuals year after year? We have a unique selection of beautiful perennials all zoned for this area. These beauties will draw hummingbirds and butterflies to your homes each year! Your flower beds will be a sight to see. Need assistance choosing the right perennials for your home? We offer free consulting on Saturdays and Sundays. Call ahead for an appointment or stop on in!!
Hanging Baskets
We offer a wide selection of colorful hanging baskets in 10 or 12 inch pots. We also have cocoa baskets available, and they sure are lookers!Our signature confetti baskets are a "must see"! We also carry petunia baskets, ivy geraniums, Calibrachoa –Million Bells, Ferns, Fuchsias, and Begonias. Surprise your mom on Mother's Day with one of these gorgeous hangers.
Vegetable Plants
Need flats of veggies to complete your vegetable gardens? We've got you covered! And these babies have been raised "farm style"! Beefsteak, Celebrity, Mountain Fresh, Romas, and Cherry tomatoes will have you smiling all summer long. We also carry a variety of peppers- Hungarian Wax, Bell, Cayenne, Cubanellas, and Sweet Banana are all available! We also have Iceberg and Romaine lettuce, Cabbage, Cucumbers, Squash, Eggplant, Watermelon, Cantaloupe, Cauliflower, and Broccoli to fulfill your veggie gardens!
Specialty Planters
Custom fill your own pots or planters, or we can do it for you! We have gorgeous dish gardens suited for sun or shade. We also have Memorial Day creations and Confetti Gardens ready to take home! Come on in and create your very own masterpiece!!
Deck Planters
Need something on your deck or patio? We have what you're looking for! We have patio tomatoes ready to go home with you! You will be able to enjoy delicious tomatoes with your summer meals, and they're just right outside your doors!
Looking for something to attract hummingbirds and/or butterflies! We have gorgeous Mandevilla plants to climb their trellises, Princess Lilies, Illustris—Elephant Ears, and more!
Herb Gardens
We offer a wide selection of herbs to purchase individually, or you can take home a complete herb garden to add mouth-watering flavors to all your summer dishes! We have many sizes available to suit your needs. We offer basil, oregano, thyme, rosemary, dill, parsley, and cilantro!!
We also have Cat Grass available for your loving pets to enjoy!!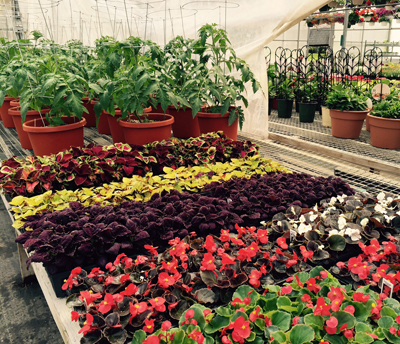 In honor of our grand opening and Mother's Day, come check us May 6th – May 8th and receive a FREE gift with any purchase! We hope to WOW you with our wide assortment of colorful flowers and plants! We are starting this year off right, and hope to see you soon!
Also, we will we hosting a weekly giveaway to be drawn every Sunday. Please come on in to register for your chance to win something colorful each week!!
Don't forget! We have the knowledge and experience to help you find the right plants for your homes! Whether you're planting annuals, perennials, or a vegetable garden we can help! We offer FREE consulting to assist you in creating the garden of your dreams that you can look forward to each year!
Gift Certificates available!!
Come see us soon! You don't want to miss out!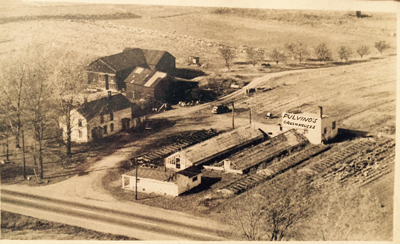 Located: 3186 East Main Road Email: yericofarms@netsync.net
Dunkirk, NY 14048 Ph: (716) 673 1271