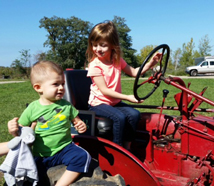 Yerico Farms...
"With wisdom
does not come
patience."
— John M. Yerico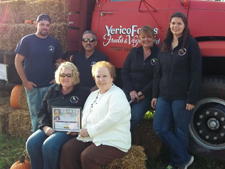 What's in Season?
Are you ready for the beautiful FALL SEASON that awaits us? We've got you covered!!!
It is time for all of your fall favorites, and we couldn't be more excited!!
Beautiful varieties of COLORFUL MUMS await you!! We have Reds, Yellows, Whites, Purples, & Oranges, in several different varieties waiting to beautify your homes for the fall season!! We also have 12inch Tri-Colored Pots of three different colored varieties available at the Country Market!! Mums are available in 8 inch, 10 inch, and 12 inch Pots!!!
You may have noticed the fabulous aroma that surrounds our community!! CONCORD GRAPES are here, and they sure are tasty!!
APPLES have just started to be picked!! Our season will start will IDA REDS and MCINTOSH, followed by GALAS and CORTLANDS, and more to follow those!! I can already smell fresh pies, apple sauce, and apple crisp baking in our ovens!!
APPLE CIDER and CUBA CHEESE are here!! Homegrown apples, freshly pressed in Busti, NY!! And what better to pair with that, then CUBA CHEESE!! Its FANTASTIC!!
NEED FALL DÉCOR!! We have got what you need!! PUMPKINS, MINI PUMPKINS, GOURDS, INDIAN CORN, WHITE PUMPKINS, CORNSTALKS, HAY BALES, in addition to our beautiful MUMS make for a great FALL LOOK!!
TOMATOES are here as we have been quickly filling orders for all you canners out there!! We still have a little ways to go, so call ahead for tomatoes by the bushel!!
WINTER SQUASH varities have just begun as well!! BUTTERNUT, BUTTERCUP, ACORN, and SPAGHETTI SQUASH will all be available. Some varieties for a limited time.
We have much more available at the COUNTRY MARKET!! We still have some GREEN BEANS, BABY RED POTATOEs, RED AND YELLOW ONIONS, PEPPERS, CARROTS, CUCUMBERS, BROCCOLI AND CAULIFLOWER, EGGPLANT, NECTARINES, PLUMS, SWEET POTATOES, BEETS AND SO MUCH MORE!! SWEET CORN is still here too through September!! We have LOCAL MAPLE SYRUP, HONEY, KETTLE CORN, JAMS, and MORE!!
Please stop by and see us for all your FALL NEEDS!!
Check back for more updates, and "like" or follow us on Facebook for more accurate dates on availability for certain items!!
We still have plenty of good weather left to enjoy all autumn long!! We can't wait to see you!
Thank you to all our loyal customers for again voting us BEST of the BEST for the 12th year in a row!! We cannot Thank You enough for taking the time to come see us and as always for supporting your local agriculture! We strive to serve you the best quality produce that we have to offer, and it really brings joy to us to see you bring our homegrown products into your homes!! Thank you all!!
Please check us out and "like" us on Facebook for daily updates with what's happening on the farm. Call us with questions at (716) 673-1271.